The 8 Common Ingredients of Toothpastes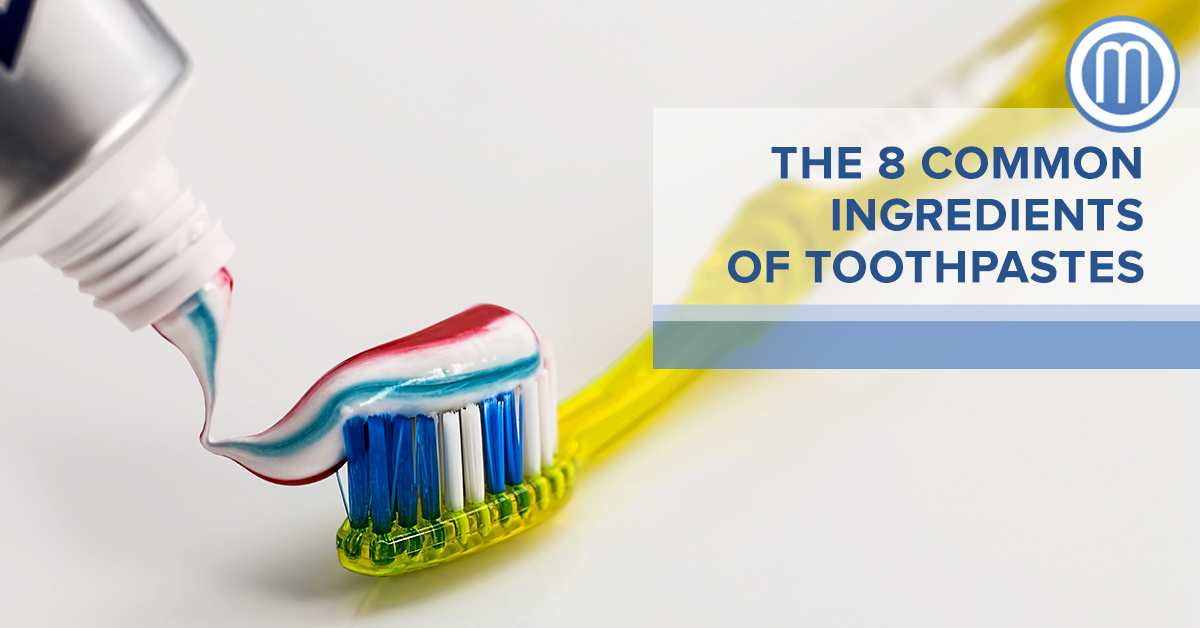 Have you ever wondered what toothpaste was made of? Your toothbrush companion is not actually as simple as what you think it is. Toothpastes have various ingredients that are specially formulated to thoroughly clean teeth and keep it healthy. After reading this article, you might see your toothpaste differently.
The active ingredients of any toothpaste product protects your teeth from harmful microorganisms that can cause bad breath and cavities. Some toothpaste brands also have some specialized active ingredients to fight the risks of gum diseases. On the other hand, inactive ingredients are those which give the taste and texture of the toothpaste.
Here are the eight common ingredients of toothpastes:
Fluoride – This is one of the most common ingredients found in toothpastes. Fluoride or sodium monofluorophospate is responsible for the prevention of tooth decay. This mineral also complements the functions of calcium and phosphorus in the remineralization process when plaque bacteria-induced acids attack the tooth enamel.
Detergents – Wondering why toothpastes releases foam when used? Detergents are responsible for that. This foaming action performed by detergents prevents the toothpaste from dripping out of your mouth while brushing your teeth.
Abrasives – One of the cleaning agents of toothpastes are abrasives that help remove plaque and tartar in the teeth. Alumina, hydrated silica, dicalcium phosphate, calcium carbonate, and sodium bicarbonate or baking soda are just some of the examples of abrasives present in toothpastes available in the market today.
Flavoring – Flavoring agents are responsible for how a toothpaste tastes and feels. Menthol and mint are the common flavors of many toothpastes. To further improve its taste, sweeteners like xylitol, calcium, or sodium saccharin are also being added to some toothpastes.
Humectants – In order to maintain its paste-like consistency and the water in it, humectants like sorbitol, glycerin, and pentatol are also included in the toothpaste. Humectants trap the water in the toothpaste so you'll get a smooth substance once you squeeze the toothpaste tube.
Coloring Agents – Some toothpastes are color red, while some are green and blue. Sometimes the color of it depends on its flavor, but, most of fluoride toothpaste are white because of titanium dioxide.
Whiteners – These are the ones responsible for reducing stains from food stuck in your teeth and do not turn your tooth color, for example, from yellow to white, but rather only a lighter shade of yellow. However, if you really want to turn your teeth white, talk to us today about our Bleaching service at Marzo Dental!
Preservatives – Sodium benzoate, methyl paraben, and ethyl paraben, are also included in most toothpaste brands to keep it free from microorganisms that can affect its quality.
Even equipped with this knowledge, it's still advisable for you to check the label of your toothpaste brands. You also have to remember that there are instances that your mouth can be sensitive or may have an allergic reaction to some of these ingredients.
That's why, it is best to consult your dentist for the most applicable toothpaste that is right for your teeth. Turn to Dr. Rowena Marzo from Marzo Dental Clinic. Her expertise has been proven to be effective not just by her clients here in the Philippines but also around the world.
So if you are looking for the best dentist based in Makati, visit Marzo Dental Clinic at Unit 1607 Medical Plaza, Amorsolo cor. Dela Rosa Street, Legaspi Village, Legazpi Village, Makati City or call us at (+632) 843-7125.
Sources: