Devina Richardson – 11/12/2013
Hi Rowena, wow you are one well trained dentist and thank goodness you are our dentist.
Liz Lacey – 10/10/2013
We also hope that you are all well, laughing and loving a lot.
Rowena I will be eternally grateful to you for what you have given me.  God Bless you all.
Love always
liZ  
Marco Schmidt – 6/10/2013
Hello Rowena and team,
just a little note in between......  
I want to thank you so much for all the work and care you have given to me so far right from the first meeting.
Yes I know, I still have a long way to go before  I can "show off" my final teeth made and provided by you and your professional staff, but I am very happy with everything you have done so far. You are truly the best dentist I have ever met in my life!!
Thanks again for everything
Best regards
Marco
Nicole Elizabeth – 5/31/2012
Hi guys!!!!
 
its been a year since i came to manila from australia/melbourne too get my teeth done.
i just wanted to say thanks again for the amazing treatment and also the friendly servise i recieved.
 
Dr Marzo and Dr Cha you have changed my life :)    Michelle you are a sweet heart!! all the other beautifull ladies that assisted were amazing!!
 
im thinking of coming back to get the rest of my teeth done too.
 
my friend Sandi from work is there now!! she has come to fix her teeth too after i told her how fantastic you guys were!!
 
i had a bit of a hair colour change too in these photos.. but am now medium blonde! not white blond anymore!
once again i want to thank you from the bottom of my heart for doing such a great job on my teeth and looking after me!! i now smile with teeth in my photos :D
miss all of guys and your friendly selves!!
 
hope to see you soon.
 
luv always
Nicole
:)  xox
Liz and Geoff Lacey
This where Professionalism & perfection meet & everyone walks out wearing a sensational smile.
Dianne Linskens (may 2013)
So happy with my new smile have.
Ray Greenwood – Nov 18, 2011
Dear Dr Rowena
I am back in Aus and back at work. Just want to let you know how happy I am with the outcome of my visit to you. My mouth has settled down perfectly after the extensive work performed.
Beautiful you and your beautiful team made my experience very memorable. I am impressed with the standard of care, professionalism always attained, the high level of asepsis achieved during everyone's interaction throughout your busy days and the surroundings at your rooms. Very impressed!!!!
I have told dozens of my friends and I am certain that you will have contact from many of them in time to come. I might even organise several small groups to come over at suitable times in the future.
Thankyou very much. Please convey my thanks to everyone else. I wish I could hug you all !!!
Love and best wishes,
Ray Greenwood
Mark Seymour – Jan 30,2011
Thankyou Doctor Marzo,
Your service is yet another reason that I continue to recommend your clinic. See you in March.
Take Care & God Bless You all 
Karen Churcher - October 2015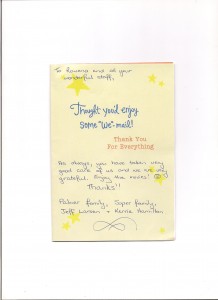 Smile today. For more inquiries, you may visit or call us through the following:
Smile today
For more inquiries, you may leave a message.